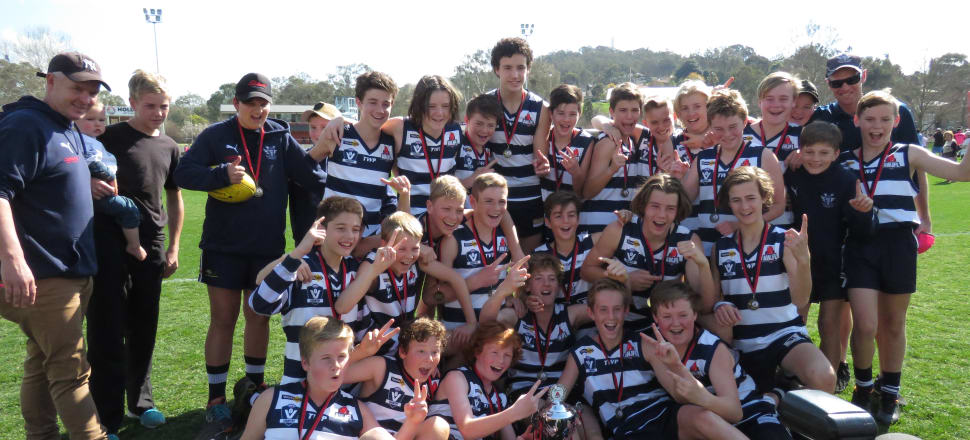 Yarrawonga AWJFL Under 14 Premiers
Yarrawonga 10.6.66 defeated
Wodonga Raiders Red 4.7.31
Goals: Jack Tout 3, Hunter Surrey 3, Jack Kennedy, Zac Fraser, Jyda House, Mac Pendergast
Best: Hunter Surrey, Tom Gorman, Caleb Mitchell, Zac Fraser, Jack Tout, Ethan Byrne, Lachlan Phillips, Mitchell Loughnan, Jobe Kennedy, Jye Leonard.
In superb conditions at the Albury Sportsground Yarrawonga and Wodonga Raiders put on superb showcase of Under 14 football in a high class, competitive game.
There was no room for the faint hearted as players continually put their body on the line in what was a pressure filled atmosphere.
Hunter Surrey displayed his class with a dominant display both in the air and at ground level, the onballer/forward was instrumental finishing with 3 match defining goals and the AWJFL medal for best of ground.
Caleb Mitchell and Olly Ridley were superb through the midfield whilst Mitch Loughnan, Charley McKenna and Geoff Montgomery ran all day on the wing.
Thomas Gorman was the dominant big man on the ground, winning the majority of tap outs and pushing hard all over the ground to ensure his teammates had a clear passage to the ball.
The backline was superbly led by Co-Captain Sam Hemphill who did not lose a contest all day, Hudson Gillies, Hunter Frauenfelder, Brendan Ryan, Jye Leonard and Zach Cummins competed hard to restrict to their opponents.
Bottom age dynamo Lachlan Phillips was 'Alex Rance' like across the full back line, backing himself to run down the field and set up scoring opportunities for the forwards.
Key forward Jack Tout marked everything that came his way kicking 3 goals to highlight his class and potential.
Full forward Jyda House set up the game early with a goal and goal assist to in the first quarter to get his team rolling.
Jobe Kennedy, Ethan Byne and Hugh Mullins ran hard all day to ensure there was an option across half forward whilst providing forward pressure in the forward 50.
Zac Fraser's hands in tight and ability to use teammates further up the ground was a highlight of the game whilst bottom age dynamos Mac Pendergast (1 goal), Jett Peters, Alex Di Cioccio and Xavier Walker all had an impact at crucial times.
Congratulations to Beau Cummins, Rudi Vodusek, Darcy Hicks, Harry Barker, Nathan Weir and Beau Cummins for their contribution and training standards during the season, all six boys are set for a big year in the Under 14's in 2019.
Thanks to the army of volunteers who supported the Under 14 program in 2018.
Mark House (Assistant Coach), Aaron Loughnan (Assistant Coach), Damien Cummins (Trainer/Coach/Committee Liaison), Max Hemphill (High Performance Manager/Runner), Glenn Leonard (Finals Runner), Kristen Cummins (Property), Katrina Kennedy (Boundary Umpire), Todd Hemphill (Umpire) and Tracey Gillies (Team Manager).
Special thanks to Scott Jaques and Yarrawonga Football Club Committee for their support of the Under 14 Program it was a greatly appreciated. Go Pigeons.